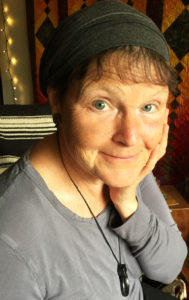 Elizabeth Cunningham is the descendant of generations of Episcopal priests. She grew up hearing rich (sometimes terrifying) liturgical and biblical language. She was also an avid reader of fairytales and fantasy novels. She was happiest in the enchanted wood of the overgrown estate next door to the church. Her religious background, the magic of fairytales, and the numinous experience of nature continue to inform her work.
Cunningham is best known for The Maeve Chronicles, a series of award-winning novels featuring a feisty Celtic Magdalen. She also recorded MaevenSong, an album of original music from The Maeve Chronicles. She is the author and illustrator of The Book of Madge, a graphic novel, and the source of The Maeve Chronicles.
Her earlier novels include The Wild Mother, The Return of the Goddess, both re-released in 25th anniversary editions, as well as How to Spin Gold. She is the author of four collections of poems Small Bird; Wild Mercy; So Ecstasy Can Find You and Tell Me the Story Again.
Murder at the Rummage Sale is her debut mystery novel. All the Perils of this Night a stand-alone thriller, as well as a sequel, was released in August 2020.
She is currently at work on a new novel that brings her back to the realm of fairytale.
Cunningham lives in the valley of the Mahicantuck, the river that flows both ways, home to the Lenape and the Mahican among other first nations peoples. She loves to hike, garden, nap with her cat, and practice Tai Chi Chuan. She is passionate about the preservation and restoration of her region and the planet. She supports an end to reliance on fossil fuels.
In addition to writing, Cunningham is in private practice as a counselor. She is a fellow emeritus of Black Earth Institute and writes regularly for Feminism and Religion blogsite. The mother of grown children, she lives with her husband, Douglas Smyth, and her cat.